Successful Workshop on Sustainable Hardware Security (SUSHI)
Event co-organized by CROSSING PI professor Ahmad-Reza Sadeghi
2022/11/11 by Ahmad-Reza Sadeghi / df
On November 4th, CROSSING PI professor Ahmad-Reza Sadeghi co-organized the Workshop on Sustainable Hardware Security (SUSHI) co-located with ICCAD'22 in San Diego, USA. Main goal of the workshop was to explore new ideas and research directions for tackling the challenges related to security-by-design for hardware, scalable assurance methodologies for hardware security and resilience, and security-aware electronic design automation that pave the way for establishing sustainable security for computing platforms. The invite-only workshop was supported by CROSSING.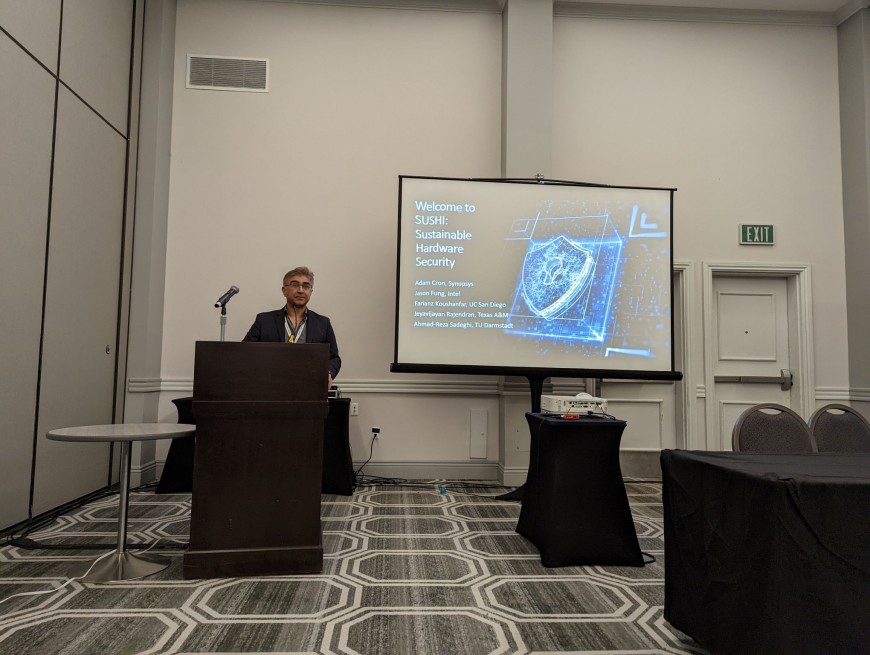 A highlight of the full-day programme was the talk of professor Gang Qu, program manager of the US National Science Foundation (NSF) and faculty member at The Institute for Systems Research at University of Maryland. He pointed out the challenges for future trust in hardware and the related research directions that will also help building secure industry products compliant with the European Chips Act, which is meant to bolster Europe's competitiveness and resilience in semiconductor technologies and applications.
Industry speakers provided valuable insights into the complex world of semiconductor industry, pointed out the enormous importance of cybersecurity, future challenges for hardware, supply chains and systems design and presented their vision for the future.
At the panel discussion, Prof. Paulo Dewitte from Texas A&M University pointed out the importance of understanding legal aspects and regulations that have high impact on the technology. Other panellists Nicole Fern, (Riscure), Ian Land (Synopsys), Daniel O'Loughlin (Qualcomm), and Prof. Saman Zonouz (Georgia Institute of Technology) gave their views on incident reporting, real world security challenges in critical infrastructure and supply chains, and how researchers and practitioners can work together to grasp and tackle the related challenges.
SUSHI was an invited-only interactive workshop co-located with the 2022 International Conference on Computer-Aided Design (ICCAD'22). The workshop attendees had the opportunity to directly interact with top industry and government experts, decision makers as well as with many active researchers. The organizers plan to to publish a white paper that summarizes the outcome of the workshop on the workshop website.