19. Dezember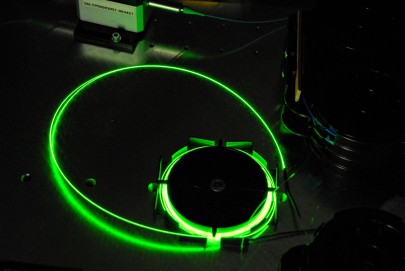 Quantencomputer bieten viele neuartige Möglichkeiten, bedrohen aber auch die Sicherheit des Internets: Denn die Superrechner machen heute gängige Verschlüsselungsverfahren angreifbar. Wie kann man dem begegnen?
Auf Grundlage der sogenannten Quantenschlüsselverteilung haben CROSSING-Forscher Professor Thomas Walther und seine Mitarbeitenden an der TU Darmstadt ein neuartiges, abhörsicheres Kommunikationsnetzwerk entwickelt. Die Sicherheit der Quantenschlüsselverteilung basiert dabei auf Naturgesetzen.
Das neue System dient dazu, symmetrische Schlüssel zwischen Parteien auszutauschen, um Botschaften anschließend unlesbar für Dritte verschlüsseln zu können. Zusammen mit der Deutschen Telekom gelang den Forschenden um Thomas Walther der Betrieb eines Quanten-Netzwerks, das in der Anzahl der Nutzenden skalierbar und gleichzeitig robust ist. Es kann außerdem ohne vertrauenswürdige Knoten auskommen. Mit solchen Systemen könnte in Zukunft kritische Infrastruktur vor der wachsenden Gefahr durch Cyber-Angriffe geschützt werden. Zudem könnten abhörsichere Verbindungen zwischen Behördenstandorten in größeren Städten entstehen.
Das System der Forschenden ermöglicht den Quantenschlüsselaustausch, der mehreren Parteien in einem sternförmigen Netzwerk eine gemeinsame Zufallszahl zur Verfügung stellt. Dabei werden einzelne Licht-Quanten, sogenannte Photonen, an Nutzende in dem Kommunikationsnetzwerk verteilt, um aus ihnen die Zufallszahl und damit die digitalen Schlüssel zu berechnen. Aufgrund von quantenphysikalischen Effekten sind diese Schlüssel besonders sicher. So wird die Kommunikation besonders stark geschützt, außerdem können vorhandene Lauschangriffe entdeckt werden. Die Ergebnisse der Forschung wurden dieses Jahr im renommierten Journal "PRX Quantum" vorgestellt.
Erik Fitzke, Lucas Bialowons, Till Dolejsky, Maximilian Tippmann, Oleg Nikiforov, Thomas Walther, Felix Wissel, and Matthias Gunkel: Scalable network for simultaneous pairwise quantum key distribution via entanglement-based time-bin coding", in PRX Quantum.
CROSSING-Forschung erklärt
Recommended external content
We have selected external content from YouTube for you and would like to show it to you right here. To do this, you must reveal it with one click. You can hide the external content at any time with another click.
I agree to external content from YouTube being shown to me. This may result in personal data being transmitted to third-party platforms. You can find more information in our Privacy Policy.
Project Area Primitives | Project P4 – Quantum Key Hubs
The security of Quantum Key Distribution (QKD) is based on laws of nature. The overall goal of this project is to develop a photon-based QKD structure in a star like topology and to comprehensively explore its fundamental quantum features. The individual goals are to implement wavelength-division multiplexing in a QKD structure including a field test in a real telecom network, to determine the multipartite statistical correlations of the realized QKD structure, and to investigate the scalability of the QKD structure beyond four parties.
Tägliche Erinnerung an den CROSSING Adventskalender