16. Dezember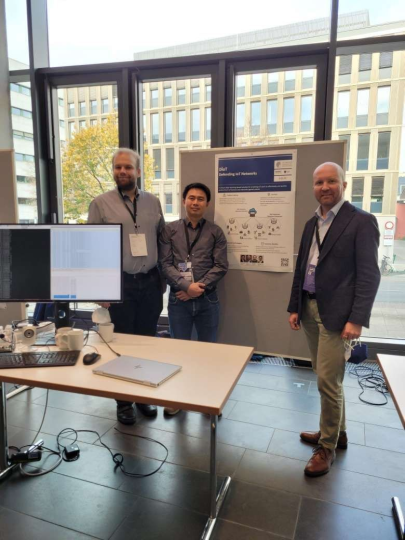 Forschungsergebnisse in die Praxis bringen, Transfer in die Gesellschaft ermöglichen, ein eigenes Startup gründen – immer mehr Wissenschaftler*innen entscheiden sich für diesen Weg. Ein Gründungsteam aus dem Umkreis von CROSSING stellen wir Ihnen heute vor: DÏoT.

Das Internet der Dinge (IoT) wächst rasant. Von der Live-Paketnachverfolgung bis zur Fernsteuerung der Heizungsthermostate zu Hause werden vermehrt solche Geräte mit Sensoren eingesetzt, die untereinander kommunizieren. Viele davon sind jedoch nicht sicher. Dies hat bereits zu zahlreichen Angriffen geführt, bei denen IoT-Geräte manipuliert wurden. Bei Angriffen können die Daten von Nutzenden ausspioniert werden oder auch die Geräte komplett unbrauchbar werden.
Hier kommt das Gründungsprojekt DÏoT ("Autonomous and Distributed Intrusion Detection for IoT Networks") ins Spiel: Die Sicherheitsforscher Dr. Markus Miettinen, Thien Nguyen und Phillip Rieger aus dem System Security Lab von CROSSING-PI Professor Ahmad-Reza Sadeghi entwickeln ein System zur Erkennung von Cyberangriffen auf IoT-Geräte. Es arbeitet mit einer neuartigen Modellierung des Netzwerkverkehrs und nutzt fortschrittliche Algorithmen des maschinellen Lernens. Das Model wird genutzt, um das gerätetypspezifische Kommunikationsverhalten von IoT-Geräten, wie Saugrobotern, zu erlernen. So werden Änderungen im typischen Verhalten der Geräte erkannt, die durch Cyberangriffe verursacht werden. DÏoT kann daraufhin proaktiv reagieren und Gegenmaßnahmen einleiten, wie infizierte Geräte im Netzwerk isolieren oder zurücksetzen, um einen Angriff zu stoppen. Wichtig dabei: Der Datenverkehr und die Rohdaten werden zum Schutz der Datensicherheit und Privatheit nicht auf einen externen Server geladen.
Im Januar 2022 wurde "DÏoT" als Projekt für 12 Monate in die Förderlinie ACTIVATOR des universitätsinternen Pioneer Fund aufgenommen. Durch das Programm unterstützt das Gründungs- und Innovationszentrum HIGHEST und der Kooperationspartner Entega die Mitglieder der TU Darmstadt dabei, wissenschaftliche Ergebnisse in die Anwendung zu bringen.
Recommended external content
We have selected external content from YouTube for you and would like to show it to you right here. To do this, you must reveal it with one click. You can hide the external content at any time with another click.
I agree to external content from YouTube being shown to me. This may result in personal data being transmitted to third-party platforms. You can find more information in our Privacy Policy.
Quelle: Gründungs- und Innovationszentrum HIGHEST, TU Darmstadt
Tägliche Erinnerung an den CROSSING Adventskalender